Whether you're setting up your first apartment or downsizing after the kids have flown the nest, we hope these stories will spark ideas for making mealtime work when space is at a minimum.
Ryan & Melissa—Studio in San Francisco
When graphic designer Ryan and sous chef Melissa moved to San Francisco to pursue their dreams, they had a major decision: small space or roommates. "After college, I knew I'd rather share 550 square feet with someone I loved than live in Downton Abbey with people who can't wash their dishes," Melissa says.
So they culled their belongings and signed a lease on a studio, though Ryan thinks they could have made room for his beer bottle collection. "We did," Melissa says, "In the recycling bin."
Since food plays a major role in Melissa's life, she wanted to dedicate space for a proper table. "She quickly vetoed my TV tray idea," Ryan says. "Which wouldn't have worked anyway because I need a spot where I can park a laptop on the days when I telecommute."
"When we found the Arcadia dining table, we knew it was the one," Melissa says. "Ryan likes the simplicity of solid oak, while I love the rustic look of the twisted base. You'd never find a piece this cool in an AirBnb. Plus, the upholstery comes in two different colors—so we each have our own chairs, and it doesn't look too matchy-matchy."
"The seats are so comfortable, we can sit and talk for hours," Ryan says. "In fact…maybe we could replace our couch with a rowing machine…"
"Keep dreaming," Melissa says.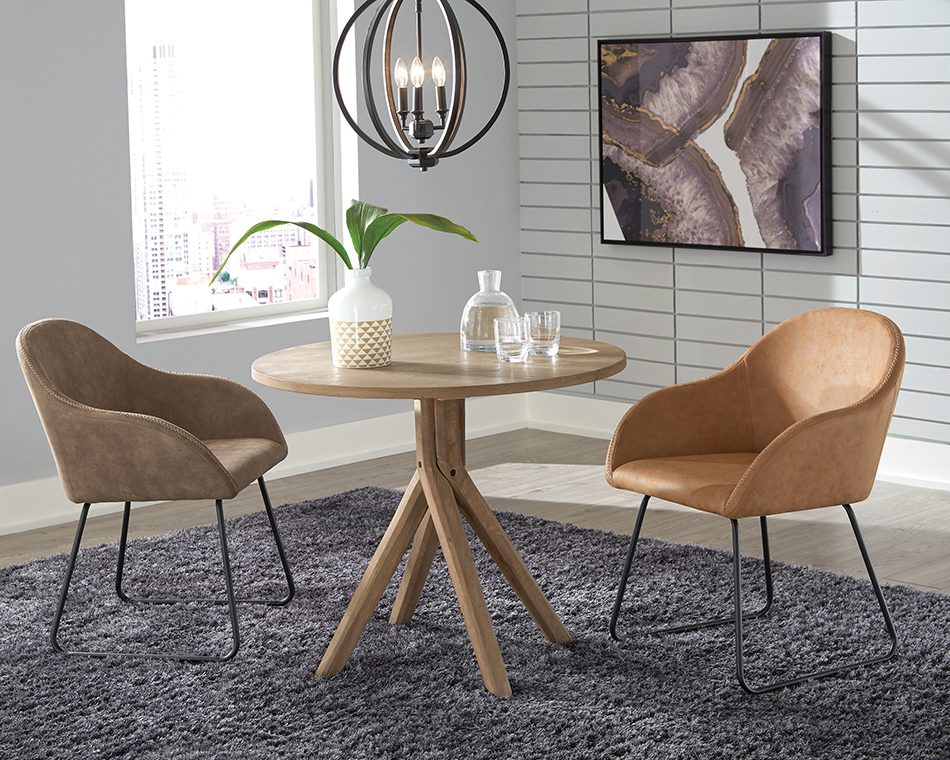 The Thompsons—Bungalow in Cleveland
Before Angela and Christopher even had kids, they'd agreed on one thing: Family meals are a must. They both have fond memories of bonding—"Or bickering," Christopher says—over dinner with siblings and they wanted to continue the tradition in their cozy Craftsman bungalow.
"We don't have a separate room for dining, which is fine by us because our table is more than just a place to eat," Angela says. "It's basically the hub of our house—where the kids do homework, where we have family game nights…"
"And you do your scrapbooking," Christopher adds. "Can't ever have too many scrapbooks…"
"Or too many vintage action figures, apparently," Angela says.
"Point taken," Christopher says with a smile.
"Anyway…we chose the Lavon dining table because it just looked like it belonged in our home. We love how the espresso finish complements the Craftsman's traditional dark wood trim. The extra storage space in the base was an added bonus, and the leatherette upholstery stands up to all kinds of spills."
"And the leaf!" Christopher says. "We can make extra room at the table when we have people over for dinner."
"Or book club…" adds Angela.
"Or poker night…" says Christopher.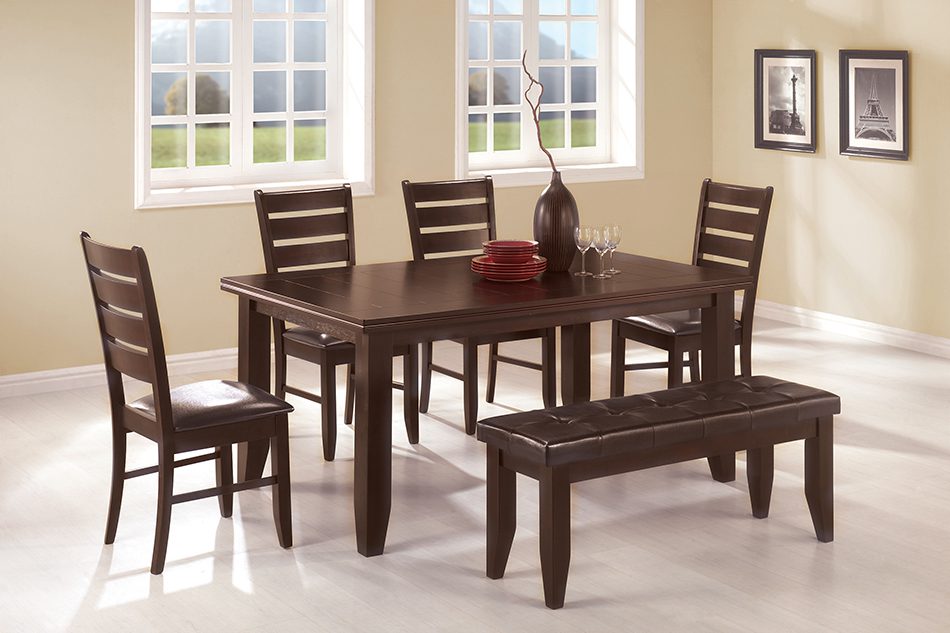 Rebecca & Ed—Condo in Miami
One day, when Rebecca was dusting the guest room dresser, she had an epiphany: "Why am I wasting time cleaning rooms I never use?" After their kids had grown and scattered to cities across the U.S., they'd been comfortable staying in their two-story Colonial in Connecticut.
"There's beauty in not having a mortgage," Ed says.
"But so many of our friends had moved away, and we decided it was time for a fresh start," Rebecca says. "We're getting to an age where stairs are becoming more of a challenge, so we decided to buy a single-story condo someplace warm."
"And if I never have to shovel snow again, it'll be too soon," Ed says.
"When we downsized, I had a hard time letting go of our 9-piece dinner table. So many memories of dinnertime when the kids were growing up or hosting family Thanksgivings. But once I saw the Mayberry dining table, I never looked back."
"Our old table is dead to her," Ed says.
"The base is gorgeous and the antique finish never needs polishing. Plus, it's so much more comfortable," Rebecca says. "Why did I not know about cushioned seats and padded chair backs?"
"Some days, I worry that she'll trade me in for a better model," Ed says.
"No, dear, you're a keeper," Rebecca says.
Happily Ever After
Looking for a table that feels at home in a small space? We'd love to help you meet your perfect match.