All furniture styles typically look good in grey from classic to modern to contemporary. The city chic contemporary look, however, is a style that looks exceptional when designed with grey.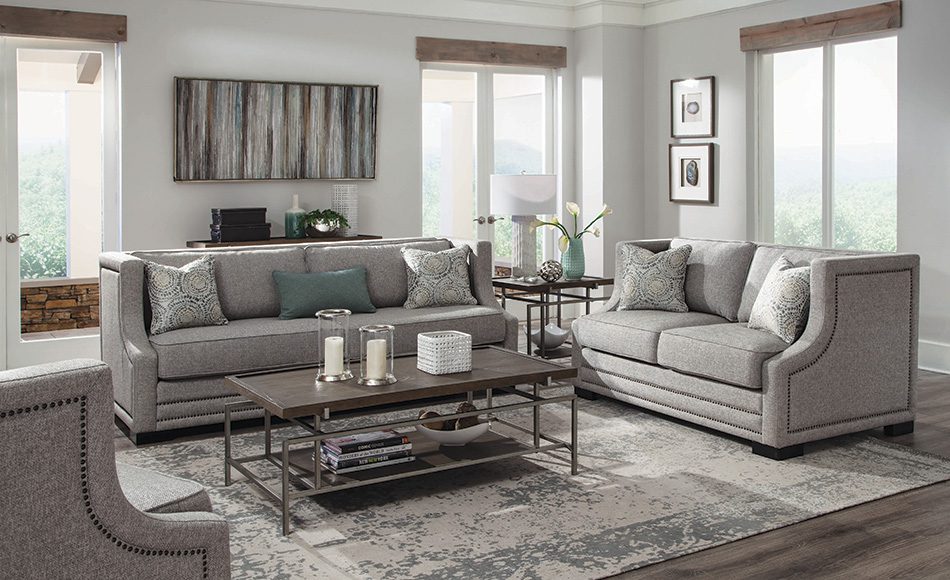 The Donny Osmond Sullivan Collection features a contemporary squared frame with downward sloping arms that looks perfect when matched with a space grey color palette. Each piece features decorative nail head trim along the front rail, back arms, and along the outer frame. Not only is this a visually stunning set, but it also offers ultimate comfort with its fully reversible feather down-wrapped seating. Pair it with the dark metal occasional tables to complete the look!
Different Moods of Grey
Mix cloud grey and ecru when designing a space that is suppose to be soft and inviting.
Create a glamorous look by combining red with charcoal grey in your dining room.
If a stylish/contemporary bedroom is what you desire, then try using slate grey as the main color scheme with touches of chartreuse throughout the room.
Dove grey is a soft neutral color that pairs really well with plums and violets.

Home Design Tips with Grey
Introduce lots of sources of light when designing a room that has grey as the main color palette.
Stay away from using high-gloss or semi gloss grey when using it on your room walls. Opt for flat paint instead.
When pairing grey with white, choose creamier trims such as beige so you can avoid the jarring difference in color palettes.
Using more than one hue of grey will add depth to a room.
Sources