On those rare occasions when he left it unoccupied, the kids would fight over who got to lean back, put their feet up, and breathe in the scent of Old Spice and unconditional love. You told yourself that when you grew up, you'd have a recliner just like grandpa's.
Fast-forward a few decades when you realize that what made that chair special was grandpa—the recliner itself was an eyesore. Still, you'd like to capture the inviting, laid-back feeling with furniture that suits your style—and now you can.
Today's recliners blend timeless comfort with contemporary aesthetics—featuring sleek lines, upholstered in top-grain leather, chenille or breathable polyurethane. Say goodbye to basic brown with a range of colors—from classics like black or white to trendy seafoam or light grey.
Modern features like cool gel memory foam seat toppers make recliners more relaxing than ever. Power reclining means no more leaning over to fiddle with tricky levers. Plus, wall-hugging designs let you recline without needing extra clearance space.
Picture yourself in one of these modern recliners:
Largo Collection
Padding only where it matters, balanced on chrome-finished legs. Think of our Largo collection as a lovingly-restored vintage Chevy.
Cullen Collection
Mix-and-match sectional seating — our Cullen collection holds your drinks, charges your devices and has storage for snacks. You'll never have to leave the couch.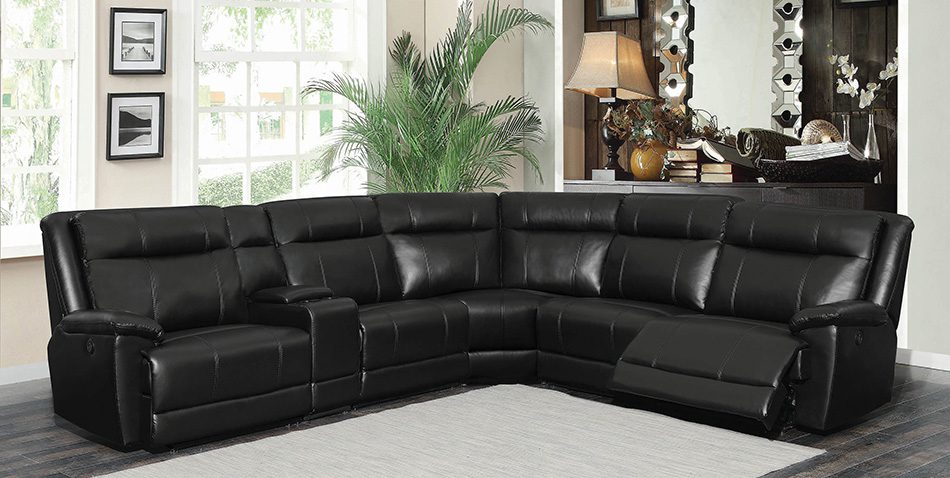 Imagine sinking into your recliner at the end of a stressful day. You breathe deep and decompress — binge-watching your favorite show, snuggling with the kids, or taking a well-deserved nap. Now picture this: grandpa comes for a visit, tries out the newest addition to your living room, and says he wants a recliner that's just like yours.