Lighter hues like blue and green represent youth, new beginnings, and inspire confidence. Instilling some form of it on your wall or furniture will not only create a cool and clear look, but also establish an atmosphere of work and meditation.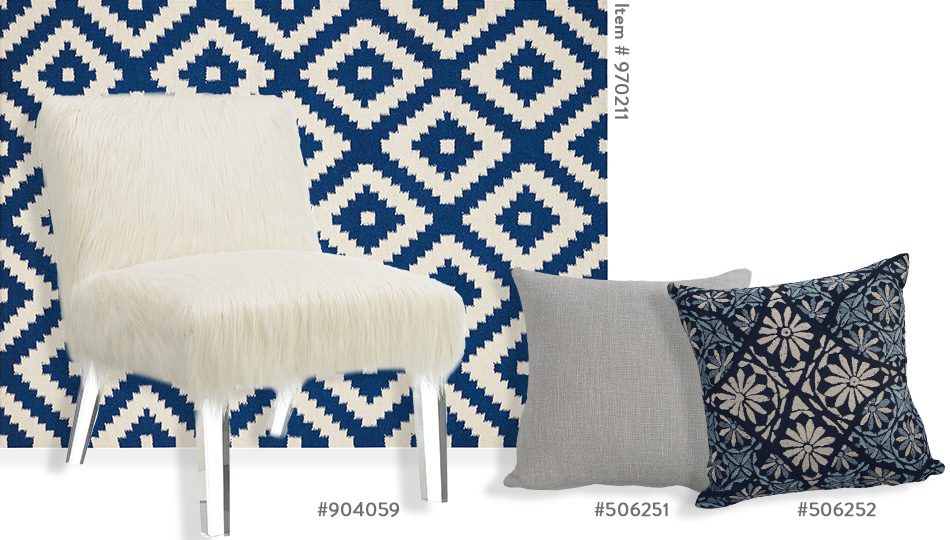 Product Highlight: The Kendrick Sectional
It is very rare to find a living room set in true blue that looks dynamic. Usually colors like off-white or grey are used as primary colors while blue as more of a secondary to enhance the look. The Kendrick Sectional, however, is a solid chenille blue sectional in a league of its own! Also available in chocolate, the sectional comes with a pull out sleeper with 4′ memory foam for ultra comfort when you have guests over.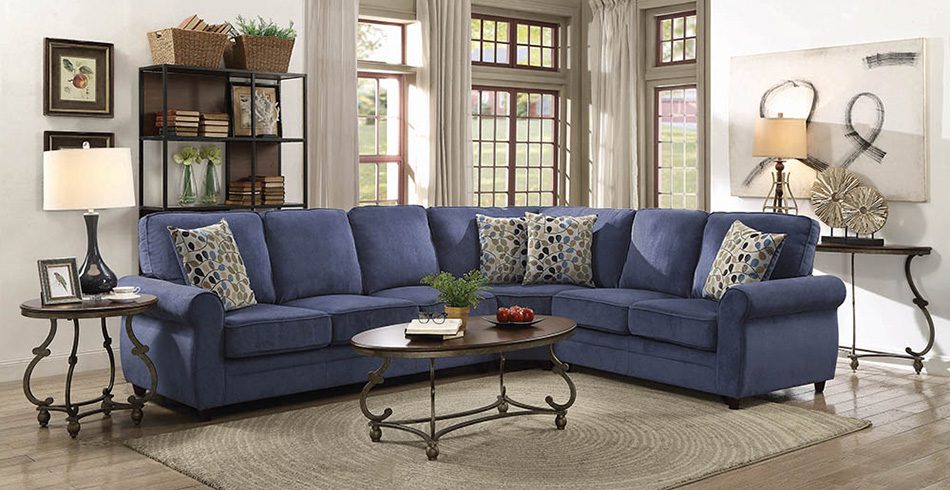 What Looks Good in Blue?
Whether it is living room, family room, or bedroom – the color blue brings the outdoors in with its nature-inspired, soul-soothing hue. Blue is said to bring down blood pressure and slow down respiration and heart rate. Thus having blue accent pieces in your "rooms of relaxation" will add an aura of peace and tranquility, while instantly making any room more vibrant.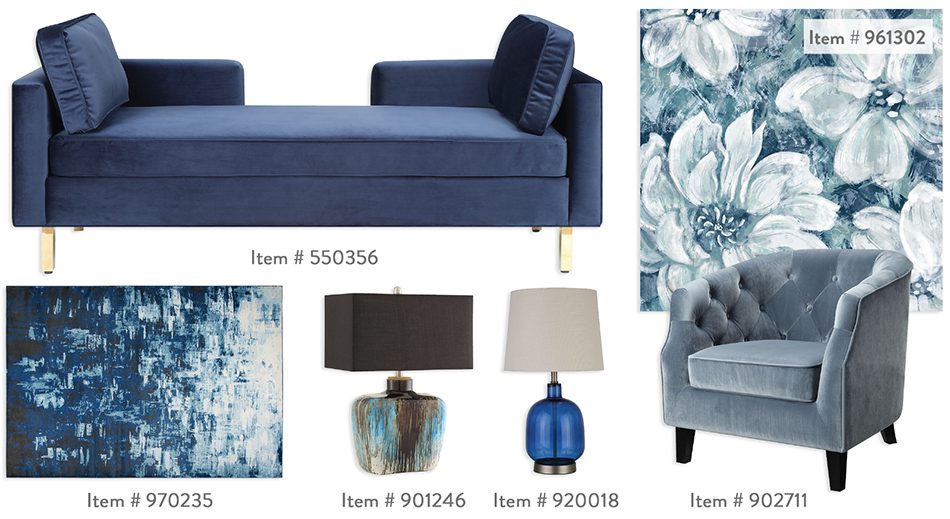 Which Colors Complement Blue?
Blue represents the tranquil sea, so earthy colors from the other elements like brown, grey, green, and black complement it well!
What's Trending? Blue LED Lighting
While it first made an appearance in today's retail sector, LED lighting is all the craze right now! It has become more prevalent in the indoor furniture industry where you can use it either as mood lighting or to simply enhance the look of your furniture. Many different highlighter colors have been in circulation for LED lighting, but none more than the color blue. Due to its calming effect, blue LED lights have made their way into indoor furniture in a big way!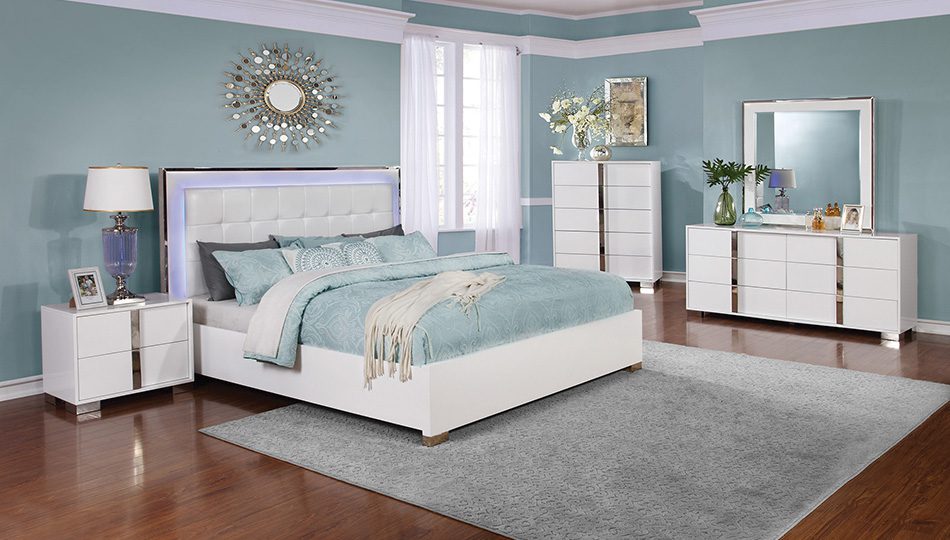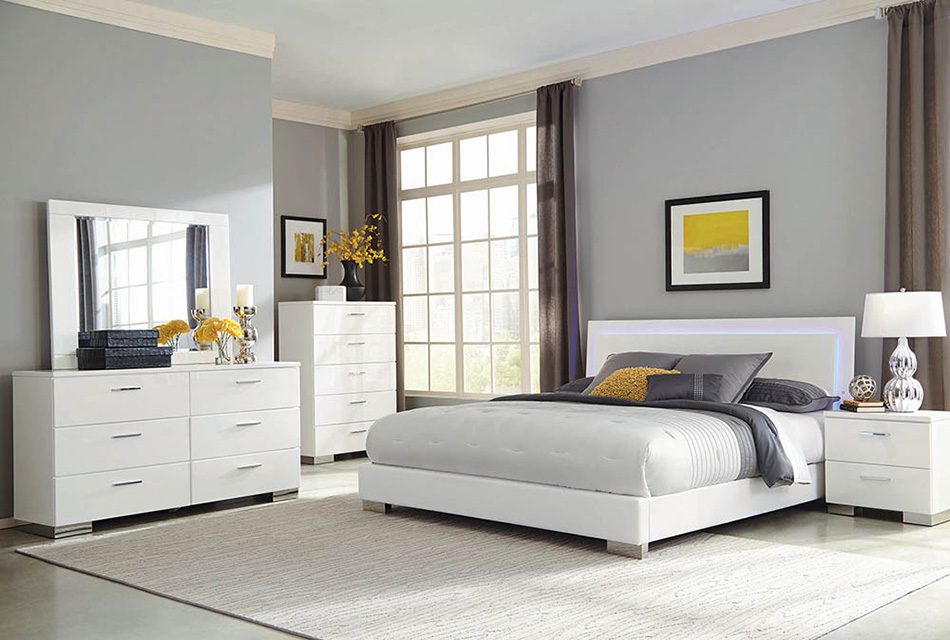 Useful Tips
You can use blue to cool a room with too much sun and heat
Be careful not to use too much blue in one room. It can feel cold. Incorporate several shades when you're designing
Men and women are both drawn to blue, so the choice may also create harmony in your home
Darker blue hues evoke feelings of sadness. Refrain from using them as your main color scheme
Industry Lingo
RTA/KD: Ready to Assemble (AKA Knock Down) furniture is a type of furniture that requires customer assembly. All the components are packaged in a carton/box which contains instructions for the buyer to assemble the item.
English Dovetail: Dovetail is a joinery technique most commonly used in carpentry. A series of pins cut to extend from the end of one board interlock with a series of tails cut into the end of another. When used in drawer construction, it is referred to as English Dovetail.